Apartment to rent in Vieux Boucau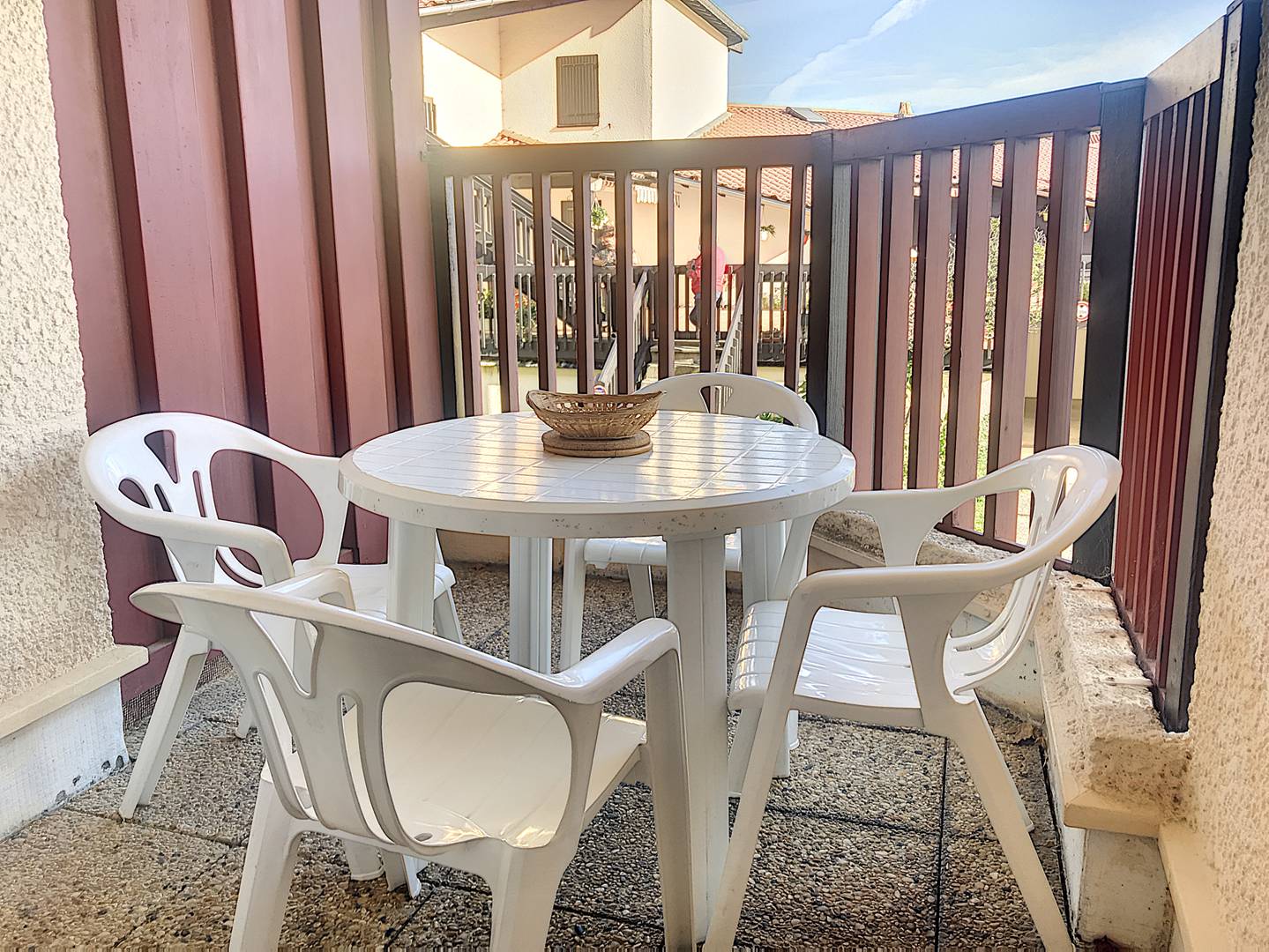 Forget about your car: everything is accessible on foot! Lake, shops, entertainment, ocean ... The dream!
Living / dining room (about 14 m²): sofabed, table + 4 chairs, flat screen TV, large cupboard. Bay window oveping onto the balcony.
Kitchenette open to the living (about 2.3 m²): table top refrigerator with freezer, 2 electric hobs, mini oven grill, microwave, coffee maker.
Bedroom (about 5.7 m²): 1 bed 140, French window.
Washroom: shower, basin, mirror.
Separate WC, cumulus.
Tiled terrace: garden table and 4 chairs.
Up to: 4 people.
| | | | | | |
| --- | --- | --- | --- | --- | --- |
| AVAILABLE DATES | 17 | Available | | | Booked |
2020
S
a
S
u
M
o
T
u
W
e
T
h
F
i
S
a
S
u
M
o
T
u
W
e
T
h
F
i
S
a
S
u
M
o
T
u
W
e
T
h
F
i
S
a
S
u
M
o
T
u
W
e
T
h
F
i
S
a
S
u
M
o
T
u
W
e
T
h
F
i
S
a
S
u
2020
May
1
2
3
4
5
6
7
8
9
10
11
12
13
14
15
16
17
18
19
20
21
22
23
24
May
Jun
13
14
15
16
17
18
19
20
21
22
23
24
25
26
27
28
29
30
Jun
Jul
1
2
3
18
19
20
21
22
23
24
25
26
27
28
29
30
31
Jul
Aug
1
2
3
4
5
6
7
8
9
10
11
12
13
14
15
16
17
18
19
20
21
22
23
24
25
26
27
28
Aug
Sep
5
6
7
8
9
10
11
12
13
14
15
16
17
18
19
20
21
22
23
24
25
26
27
28
29
30
Sep
Oct
1
2
3
4
5
6
7
8
9
10
11
12
13
14
15
16
17
18
19
20
21
22
23
24
25
26
27
28
29
30
31
Oct
Nov
1
2
3
4
5
6
7
8
9
10
11
12
13
14
15
16
17
18
19
20
21
22
23
24
25
26
27
28
29
30
Nov
Dec
1
2
3
4
5
6
7
8
9
10
11
12
13
14
15
16
17
18
19
20
21
22
23
24
25
26
27
28
29
30
Dec
2020
S
S
M
T
W
T
F
S
S
M
T
W
T
F
S
S
M
T
W
T
F
S
S
M
T
W
T
F
S
S
M
T
W
T
F
S
S
2020
Holiday rental prices in Euros : Saturday to Saturday
| from | to | Price |
| --- | --- | --- |
| 04/04/2020 | 13/06/2020 | 238 € |
| 13/06/2020 | 04/07/2020 | 320 € |
| 04/07/2020 | 11/07/2020 | 392 € |
| 11/07/2020 | 01/08/2020 | 517 € |
| 01/08/2020 | 22/08/2020 | 777 € |
| 22/08/2020 | 29/08/2020 | 517 € |
| 29/08/2020 | 05/09/2020 | 320 € |
| 05/09/2020 | 31/10/2020 | 238 € |
| 31/10/2020 | 19/12/2020 | 197 € |
| 19/12/2020 | 02/01/2021 | 238 € |
The taxe de séjour is not included in these prices