Villa to rent in Vieux Boucau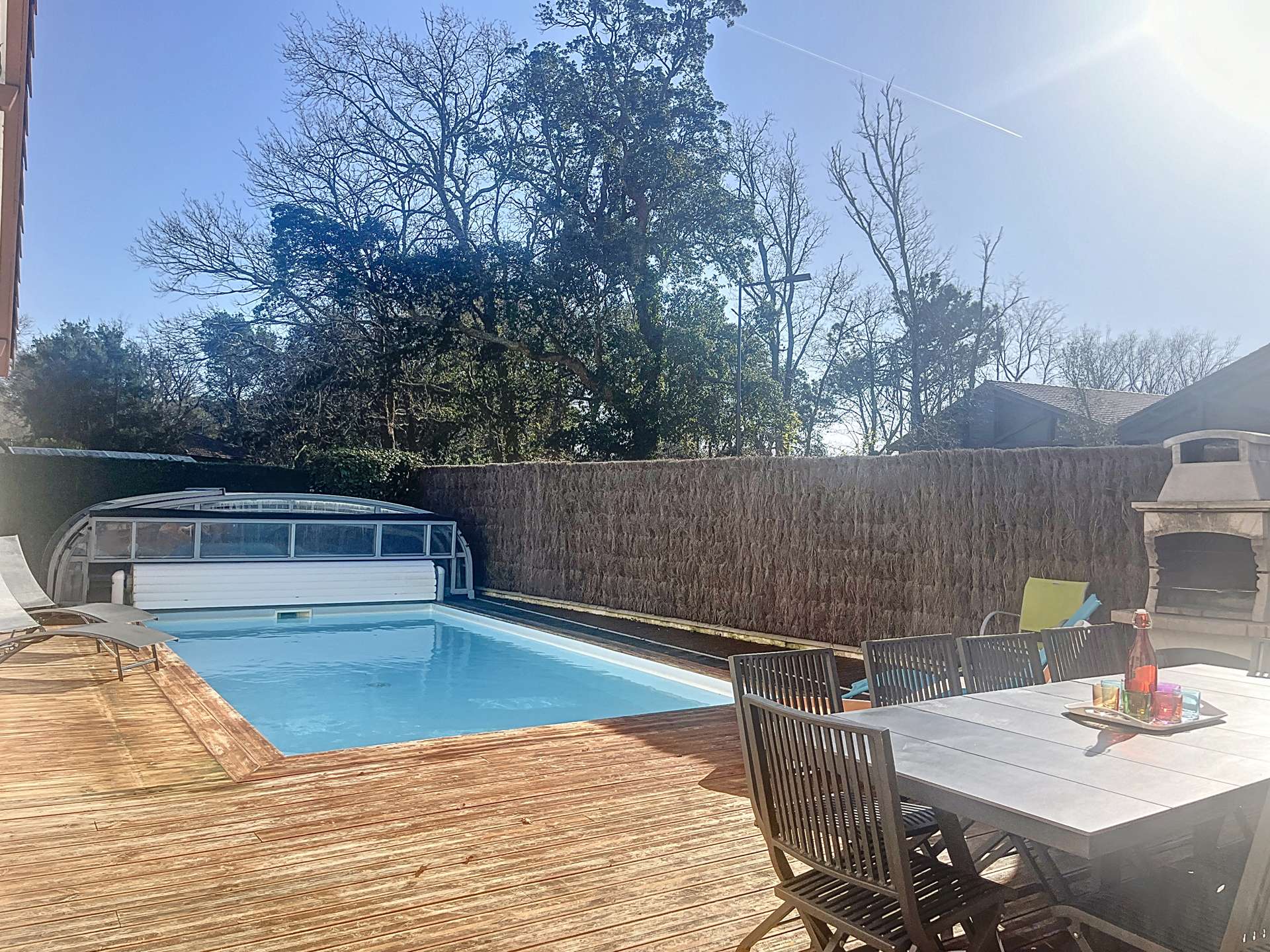 To enjoy quiet holidays close to the ocean. Just two steps from the cycling paths. Nice house ideal for a great time!
3-room house with mezzanine : approx. 76m². Fenced garden, parking possible. GROUND FLOOR : SALON : approx. 18m²: flat screen TV, window. LIVING-ROOOM open plan KITCHEN : approx. 14m²: table, chairs, fridge/freezer, 3 induction hobs, microwave, window, dishwasher, kettle, coffee machine, toaster... BATHROOM : approx. 4m², bath, basin, WC, bidet, window. BEDROOM 1: approx. 9.87m², bed 140, cupboard, window view garden. BEDROOM 2 : approx. 8m², bed 140, window.
UPSTAIRS: converted attic:
SLEEPING AREA 1: approx. 4m², 2 beds 90, window, separate WC. Adjoining bathroom : shower, basin, mirror. SLEEPING AREA 2: approx. 7m², bed 140, window, adjoning washroom, approx. 2m²: shower, basin, WC.
GARAGE: washing machine, gas cooker.
GARDEN: Facing the forest, garden furniture, parasol, table, plancha.
| | | | | | |
| --- | --- | --- | --- | --- | --- |
| AVAILABLE DATES | 17 | Available | | | Booked |
2020
S
a
S
u
M
o
T
u
W
e
T
h
F
i
S
a
S
u
M
o
T
u
W
e
T
h
F
i
S
a
S
u
M
o
T
u
W
e
T
h
F
i
S
a
S
u
M
o
T
u
W
e
T
h
F
i
S
a
S
u
M
o
T
u
W
e
T
h
F
i
S
a
S
u
2020
Mar
Mar
Apr
4
5
6
7
8
9
10
11
12
13
14
15
16
17
18
19
20
21
22
23
24
25
26
27
28
29
30
Apr
May
1
2
3
4
5
6
7
8
9
10
11
12
13
14
15
16
17
18
19
20
21
22
23
24
25
26
27
28
29
30
31
May
Jun
1
2
3
4
5
6
7
8
9
10
11
12
13
14
15
16
17
18
19
20
21
22
23
24
25
26
27
28
29
30
Jun
Jul
1
2
3
Jul
Aug
29
30
31
Aug
Sep
1
2
3
4
5
6
7
8
9
10
11
12
13
14
15
16
17
18
19
20
21
22
23
24
25
26
27
28
29
30
Sep
Oct
1
2
Oct
Nov
Nov
Dec
Dec
2020
S
S
M
T
W
T
F
S
S
M
T
W
T
F
S
S
M
T
W
T
F
S
S
M
T
W
T
F
S
S
M
T
W
T
F
S
S
2020
Holiday rental prices in Euros : Saturday to Saturday
| from | to | Price |
| --- | --- | --- |
| 04/04/2020 | 13/06/2020 | 799 € |
| 13/06/2020 | 04/07/2020 | 1045 € |
| 04/07/2020 | 11/07/2020 | 1336 € |
| 11/07/2020 | 01/08/2020 | 1678 € |
| 01/08/2020 | 22/08/2020 | 2225 € |
| 22/08/2020 | 29/08/2020 | 1678 € |
| 29/08/2020 | 05/09/2020 | 1045 € |
| 05/09/2020 | 31/10/2020 | 799 € |
The taxe de séjour is not included in these prices