Villa to rent in Messanges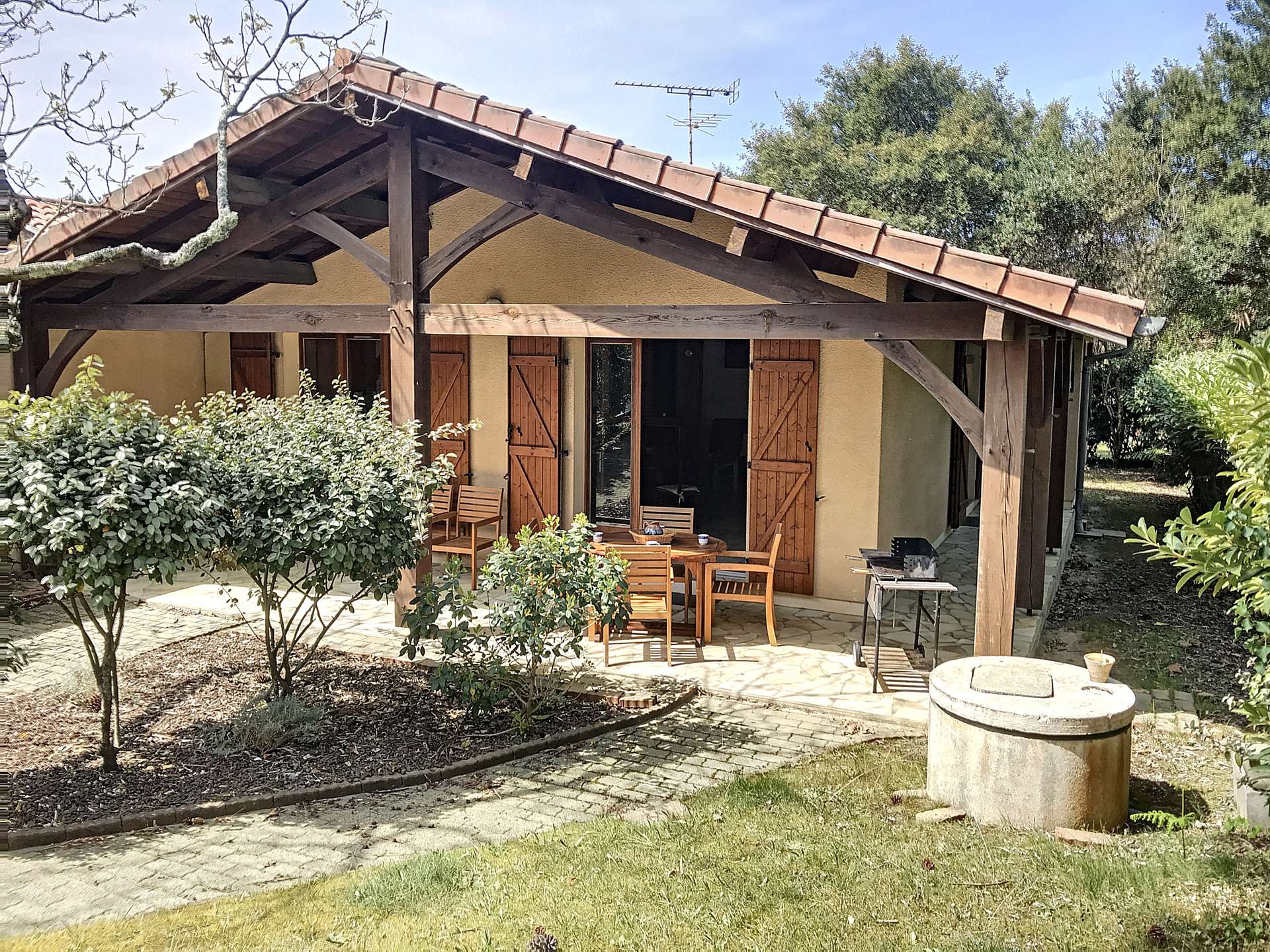 Landais style house in nice residential area 10 minutes walk from the beach and close municipal swimming pool. For relaxation or a sporting activity, choose the natural side of Messanges, please contact us.
STOREROOM: approx. 8 m², cumulus, washing machine, dishwasher, mini oven grill, 1 shower, storage shelves.
KITCHEN / LIVING ROOM: approx. 24.90 m² Kitchen area: refrigerator, vitroceramic hobs, microwave, toaster, coffee machine, kettle, worktop counter between kitchen and living room with stools, storage.
Living room area: 1 table and chairs, storage.
SALON: approx. 16.8 m², large wardrobe, TV, 2 sofa beds, 1 round table.
TOILETS: approx. 1.70 m².
BEDROOM 1: approx. 10.70 m², former bed 140, cupboard.
BEDROOM 2: approx. 10.50 m², bed 140 x 200 bed, cupboard.
WASHROOM: approx. 4 m², shower, basin, storage, towel rail,
Covered TERRACE: paved south and east side. Table, 6 chairs, barbecue.
Fenced GARDEN: approx. 400 m².
| | | | | | |
| --- | --- | --- | --- | --- | --- |
| AVAILABLE DATES | 17 | Available | | | Booked |
2020
S
a
S
u
M
o
T
u
W
e
T
h
F
i
S
a
S
u
M
o
T
u
W
e
T
h
F
i
S
a
S
u
M
o
T
u
W
e
T
h
F
i
S
a
S
u
M
o
T
u
W
e
T
h
F
i
S
a
S
u
M
o
T
u
W
e
T
h
F
i
S
a
S
u
2020
May
1
2
3
4
5
6
7
8
9
10
11
12
13
14
15
16
17
18
19
20
21
22
23
24
25
26
27
28
29
30
31
May
Jun
1
2
3
4
5
6
7
8
9
10
11
12
13
14
15
16
17
18
19
20
21
22
23
24
25
26
27
28
29
30
Jun
Jul
1
2
3
4
5
6
7
8
9
10
Jul
Aug
15
16
17
18
19
20
21
22
23
24
25
26
27
28
29
30
31
Aug
Sep
1
2
3
4
5
6
7
8
9
10
11
12
13
14
15
16
17
18
19
20
21
22
23
24
25
26
27
28
29
30
Sep
Oct
1
2
3
4
5
6
7
8
9
10
11
12
13
14
15
16
17
18
19
20
21
22
23
24
25
26
27
28
29
30
31
Oct
Nov
1
2
3
4
5
6
7
8
9
10
11
12
13
14
15
16
17
18
19
20
21
22
23
24
25
26
27
28
29
30
Nov
Dec
1
2
3
4
5
6
7
8
9
10
11
12
13
14
15
16
17
18
19
20
21
22
23
24
25
26
27
28
29
30
Dec
2020
S
S
M
T
W
T
F
S
S
M
T
W
T
F
S
S
M
T
W
T
F
S
S
M
T
W
T
F
S
S
M
T
W
T
F
S
S
2020
Holiday rental prices in Euros : Saturday to Saturday
| from | to | Price |
| --- | --- | --- |
| 04/04/2020 | 13/06/2020 | 361 € |
| 13/06/2020 | 04/07/2020 | 498 € |
| 04/07/2020 | 11/07/2020 | 720 € |
| 11/07/2020 | 01/08/2020 | 859 € |
| 01/08/2020 | 22/08/2020 | 1132 € |
| 22/08/2020 | 29/08/2020 | 859 € |
| 29/08/2020 | 05/09/2020 | 567 € |
| 05/09/2020 | 31/10/2020 | 361 € |
| 31/10/2020 | 19/12/2020 | 361 € |
| 19/12/2020 | 02/01/2021 | 269 € |
The taxe de séjour is not included in these prices